The Toyota Prado – A rugged-yet-sophisticated SUV
The Toyota Land Cruiser Prado, often known simply as the "Prado", is a luxury-leaning SUV available in a wide range of configurations. Long-travel suspension gives a smooth ride over the roughest terrain, while up-to-date features and slick exterior and interior styling make it city life ready.
In production for over a quarter-century, the Toyota Prado is an extremely popular vehicle for resale in the Japanese used car export market. Since 1997, it's been a top seller in the SUV market worldwide. The Prado is particularly well liked in places like Africa and Australia, where many people regularly drive in both built-up urban areas and rugged nature in the span of a single day. The Prado perfectly meets the needs of such dynamic conditions and does it all with style and comfort.
Toyota Prado Model Years
The Toyota Prado has gone through four generations since its debut in 1990, with some significant changes in body style and features over time. If you're looking to buy one on the used Japanese car market, you'll find there's a bit of a learning curve. So let's have a ramble through the years then, shall we?
The First Generation: 1990 – 1996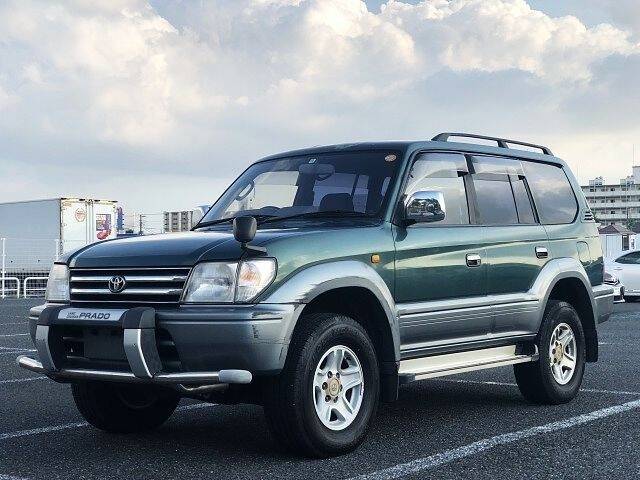 The first Toyota Prado model was, in essence, a freshly badged SUV redesigned from the Toyota Land Cruiser 70 Series. This name was applied to a group of short-body, light-duty vehicles made between 1984 and 1990. First generation models carry the full name of "Toyota Land Cruiser Prado", indicating this relationship to the earlier vehicles.
The new Prado's marketing focused on its capability as an on-road vehicle, unlike its predecessors, which were marketed as rugged off-road wanderers. This was done in spite of the fact that the new Prado's body-on-frame design made it equally as capable off-road.
All first generation models come equipped with four-wheel-drive (4WD), with the option of 4-gear automatic transmission (4AT) or 5-gear manual transmission (5MT).
The Second Generation: 1996 – 2002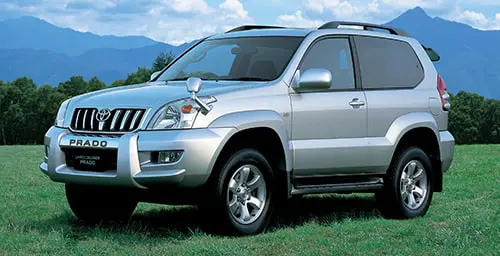 In 1996, the Prado got a full body makeover. The short-body frame was lengthened and it received a new front suspension as well as a 3 and 5 door option. 2.7L and 3.4L gasoline engines were made available in this model range, as well as 2.8L and 3L diesel engines.
Models from 1999 and after feature minor changes, such as bumper mounted fog lamps. Vehicles produced from July 2000 and after were sold with the option of an anti-theft engine immobilizer.
The Third Generation: 2002 – 2009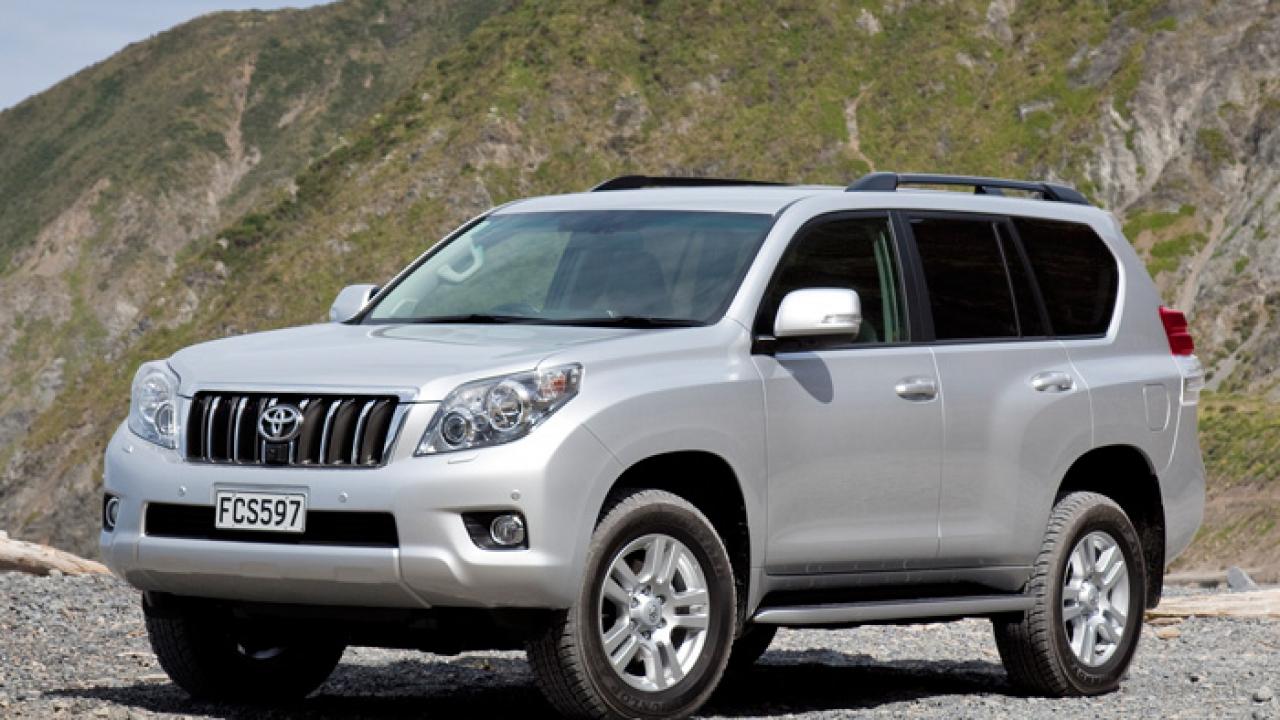 The third generation Prado features an upgraded front suspension. In 2004, the newly introduced Toyota 1TR-FE engine with VVT-I (variable valve timing with intelligence) replaced the 3RZ-FE engine. For other models, the previous 5VZ-FE engine was replaced with the 1GR-FE engine.
The Fourth Generation: 2009 – Present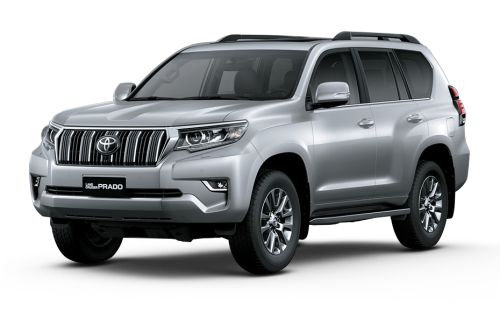 The fourth generation and current generation of the Toyota Prado was introduced in October 2009. It comes in 3 and 5 door variants and is offered in TXL and VXL grades. Of the two, the VXL grade offers more amenities and options.
The fourth generation model is available with either under-floor or rear door mounted spare wheel. The spare wheel is mounted under-floor for models sold in more urbanized countries, while it is mounted on rear-door in markets where long-distance travel through sparsely populated areas is more common. This design choice leaves space for an extra fuel tank inside the vehicle.
High-end VX models allow viewing in six different camera positions for enhanced driver visibility, collision prevention and ease of parking.
Understanding Toyota Prado features
Fuel Type
Transmission
When looking online for a Toyota Prado, you will find there are three transmission types available depending on model year.
4AT – the vehicle has 4 forward gear ratios and an automatic transmission, which means that gear changes automatically take place while the vehicle is in motion.
6AT – the vehicle has 6 forward gear ratios and is an automatic transmission which means that gear changes automatically take place while the vehicle is in motion.
5MT – the vehicle has 5 forward gear ratios and a manual transmission, which means that gear changes need to be manually input by the driver while the vehicle is in motion.
Displacement
Displacement refers to the amount of air that is moved by the engine's pistons and is commonly measured in cubic centimeters, or "cc". A higher number generally correlates with more power, while a lower number correlates with more fuel economy. There is a wide range of displacements for the Toyota Prado (5 in all), depending on the engine type and model year.
Doors
The Toyota Prado is available in 3 and 5 door configurations.
Body
The Toyota Prado is available in standard and wide body variants. For wide body variants, you will see "WIDE" written as part of the model grade.
Features
PASS

"PASS" refers to passengers. The number in front of "PASS" refers to the maximum number of passengers carried.
⁠Ex. "5PASS" means the vehicle carries 5 passengers total.
The Prado is available in 5, 8 and 9 passenger configurations.

4WD

⁠"4WD" stands for four-wheel drive. The transmission system powers all four tires, rather than 2. This results in much improved traction in rougher terrain.
Grade
The Toyota Prado is available in several grades.
GX
⁠The GX version is the standard version of the Prado. This grade is available in diesel only. For a standard version, it certainly has a lot of features, including: ABS brakes with electronic brake-force distribution (EBD) and brake assist (BA), air conditioning, seven airbags, and (on recent models) smart entry and smart start. The automatic transmission version of the GX also comes with Hill-Start Assist Control (HAC) and Downhill Assist Control (DAC).

GXL
The GXL version of the Prado offers the same features of the GX, with added perks like satellite navigation (on more recent models), fog lamps and privacy glass.

VX
⁠The VX grade version of the Prado was introduced in 2004 as a high-end option. Vehicles with this grade are eight-seat models with either a VVT-I equipped Quad Cam V6 engine (gasoline version) or 3.0L Turbo-diesel engine. The VX grade Prado has passive safety equipment like front-seat mounted SRS side airbags, as well as first and second row curtain shield airbags. It also has active safety equipment like Toyota's Automatic Highway Driving Assist (AHDA) advanced driving support system. In terms of comforts and looks, the Prado VX has electronically adjustable driver's seat, enhanced seat and door trim and wood grain dashboard and door trim.

Kakadu
⁠The Prado Kakadu has all the features of the VX, plus a four camera Multi-Terrain Monitor, Multi-Terrain Select (MTS) traction-control switch, Electronic rear differential lock, sunroof and more. This is the most fully-featured, high-end offering in the Prado grade lineup.
The Toyota Prado – An SUV for city and countryside, full stop
With four generations of Toyota Prado models out there in the world, there are certainly many variations to choose from. We hope to have made things a bit clearer for you with the info above info, getting you one step closer to finding the right vehicle.
Are you looking for a cross-country hauler, and aren't quite sure if the Toyota Prado is appropriate? You might want to have a look at the Toyota Probox, a wagon with a reputation for good fuel economy and lots of cargo space.